At Major Painting, we pride ourselves on being able to deliver beautiful, long-lasting solutions for our clients' unique commercial epoxy flooring needs. Our keys to success in creating a winning floor is to listen and prepare.
First, we truly listen to our client's long-term needs regarding their flooring. Each client is unique as it relates to the wear-and-tear that business operations create on the floor and the combination of the durability and aesthetics required.
We then actively prepare for the flooring project alongside our clients for minimal disruption to their operations.
By doing these two things the right way, and not simply the easy way, we will have beautiful epoxy floors standing the test of time all around the greater Kansas City metro. Not every company can put down an epoxy coating correctly and consistently achieve results, but our team of professional epoxy flooring applicators along with our painters, and carpenters can deliver an all-around quality solution and project experience to ensure our client's expectations are met.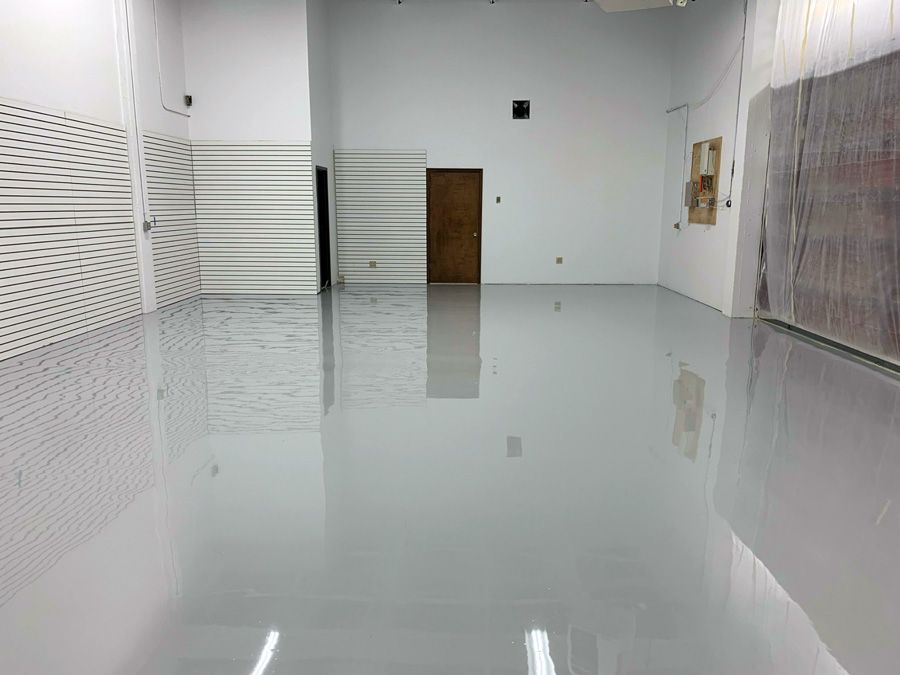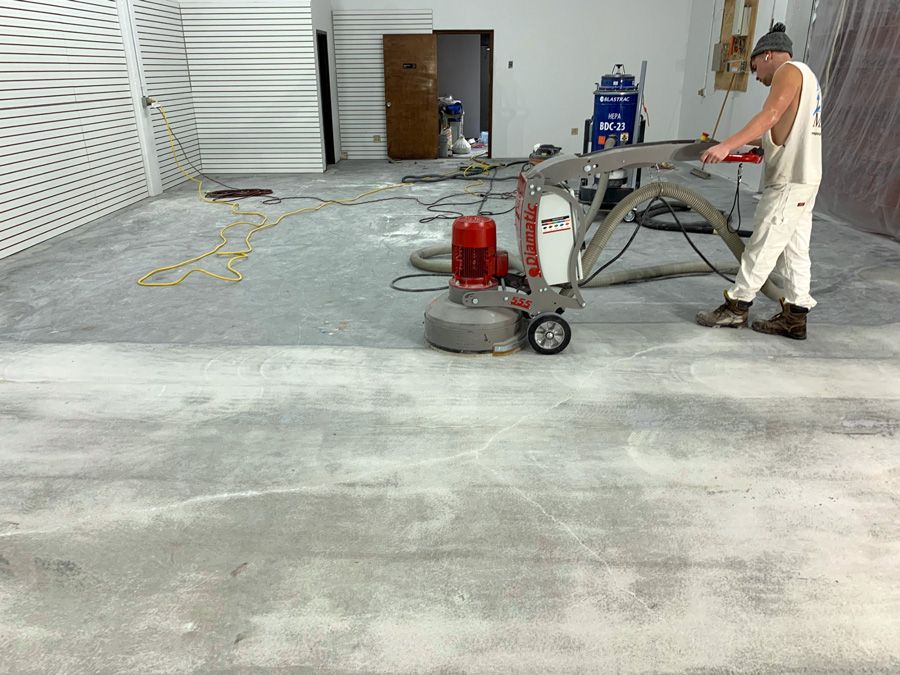 Major Painting completed an epoxy floor system to complement the buildout of a new storage area within a warehouse. 
Our Commercial Flooring Services
Our Commercial Epoxy Flooring Installation Services in Kansas City
The following are our commercial flooring options available for customers around the Kansas City area. We serve all our flooring clients directly via professionally trained employees from our headquarters in Lee's Summit, MO.
Floor Preparation, Mechanical Grinding, Hand Tooling

High Performance Epoxy Floor Coatings

Polyaspartic Floor Coatings

Re-Coatable Polysiloxane Floor Coatings

100% Solids Epoxy Slurry Floor Coatings

Decorative Floor Coatings

Industrial Floor Coatings

Non-Slip Safety Floor Coatings

Concrete Floor Patching and Repair

Exterior Concrete Walkway Restorative and Decorative Coatings
Additional Commercial Flooring Options
Available Types of Flooring
Industries Served by Our Flooring Services
Warehousing and Transportation Flooring

Consistently running forklifts, dropping or dragging pallets, or just generally abusing the floor in your warehouse can lead to long term issues in the concrete. Unchecked, these issues can potentially cause safety hazards in walkways, bumpy or uncomfortable transport of goods through the facility, and ultimately further disintegrate the floor causing costly repairs with extended downtimes.

Joint sealants and simple protective coating systems can be employed to bring your floor back up to your business' standards.

Industrial and Manufacturing Flooring

Industrial and manufacturing facilities are one of the most aggressive interior environments for floors out there. Production plants, heavy tool abuse, and aggressive chemicals and solvents can contribute to rapidly aging floors. Over time, this wear-and-tear takes a toll on your property or investment. These types of environments also yield slip hazards and can be subject to OSHA regulatory standards.

Thankfully, there are many floor coating systems designed to protect your floor, mark safety zones, and walkways, and most importantly, protect your workforce.

Flooring for Food and Beverage Businesses

Commercial kitchen areas, breweries and distilleries are harsh environments where the floors can take an array of abuse from thermal shock, chemicals, and excessive moisture. There are high performance cementitious coatings that can be applied to protect the floor, add safety for your staff, and create an easily cleanable and more sanitary surface on which to work. Many floors in these areas are required to be top coated with material approved by regulatory organizations. Because of the floor coating chemistries available to us as a commercial flooring company, we can implement these floors very little to no unpleasant smell or gasses.

Flooring for Educational Institutions

High performance floor coatings are very popular in schools. Floor coatings provide a long-lasting durable floor that can be designed to add charm and inject school spirit into hallways and common areas.

In addition to the aesthetic, the slip resistant characteristics provided by different additives, such as quartz, offer a safer environment for students to move from class to class.

Affordable Flooring for Property Management

Freshening up properties for current tenants and owners or remodeling spaces ready for new lessees is at the core of who we are. Large or small tilt up properties have an expanse of poured concrete pads. To protect against settling and movement there are cuts or joints in those pads to control future cracking. Over time, and with abuse caused by forklifts or machinery, those joints will begin to degrade. The solution for failing joints is to repair and fill them with a resilient system that will protect from further cracking or spalling for years to come. These joint systems, coupled with protective coatings are suitable to withstand the harshest of industrial environments.

In addition to flooring options, Major Painting also provides the full suite of office remodel services designed to impress tenants and property managers alike!

Retail Flooring

Retail spaces are truly unique. They combine high traffic areas that are subject to customers tracking in damaging outdoor elements and a need to create an aesthetic that sets the tone for a customer's store experience. A floor coating can help protect your space, prevent slipping hazards, and create a unique beautiful aesthetic to heighten the look and feel of your shopping environment.

Mechanical Room Flooring

Mechanical rooms can take abuse and are often subject to harsh chemicals or moisture that, unchecked, can wreak havoc on a concrete subfloor. It is important to protect these floors from chemicals and moisture permeation. Often these environments can go unvisited for periods of time and have significant swings in temperature. Without high-performance protection, damages from spills could be costly and cause displacement or shutdowns.

Exterior Walkways

Whether it's from freeze and thaw cycles, salts, or abrasions from snow removal equipment, exterior concrete takes significant abuse. Taking proactive measures to protect against this abuse can be beneficial. Our flooring contractors can apply professional flooring systems for maximum protection, extended lifespan, improved aesthetics, and enhanced safety.
Contact Our Commercial Flooring Company
Would you like to get a quote for your upcoming commercial flooring installation project? We would love to serve you!
Contact our Kansas City flooring contractors today for a free quote.