What are Expansion Joints?
Expansion joints are where two substrates come together on a building and are designed to allow the building to expand and contract with the atmosphere without causing damage to its substrates. Expansion joints, especially vertical, are often where two slabs of concrete meet and therefore a foam backing rod and caulking area required. Should the expansion joints not be maintained, your building runs the risk of damaged substrates, water penetration, and possibly energy issues.
Expansion joints can be found on almost all sizeable commercial buildings. Expansion joints are a mid-structure separation created in order to relieve stress put on the building from natural building movement. Joints must remain watertight, but flexible over time. Like the majority of important building parts, these expansion joints require maintenance, and the maintenance Major Painting offers is joint caulking.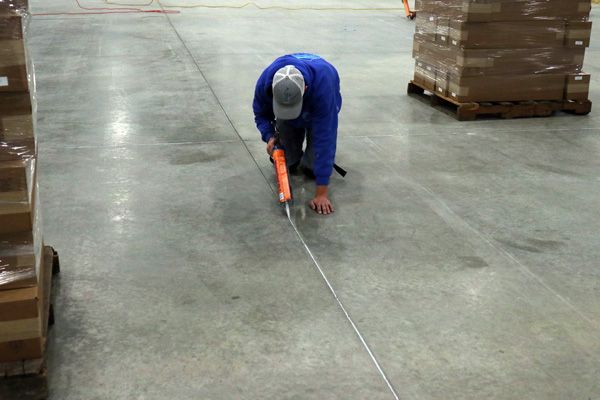 What is Joint Caulking?
Caulking is used to fill areas and holes in a building in order to make the building airtight. This helps protect the building from environmental damage such as water causing damage by entering the insides of the walls. Traditionally, caulking was referred to making wooden ships waterproof and used to fill leaks in ships should they occur. Currently, caulking has a bit more uses when applied to a building such as insulation and noise prevention, however, protecting your building from harmful environmental effects is still the top priority.
Depending on the expansion and contraction of the walls of a building, a joint is due for maintenance on average every 10 years.
How Do You Know When You Need a Caulking Repair?
Caulking repair has some tell-tale signs; the main sign is that water has penetrated the inside of the building. This poses a significant problem for your building and business, and a professional should be consulted immediately to reseal the building as soon as possible.
If you want to be proactive with preventative maintenance, an early sign that future repairs may be needed is that the caulk is cracking or brittle. Though no water damage or other environmental damage may be in place yet, this signifies that it may happen in the future. With that being said, it is far more cost-efficient to re-caulk now than re-caulk too late when repairing additional damage is required.
Why Major Painting?
Major Painting has years of experience in dealing with joint caulking, commercial and residential painting, roof coating, and more. With Major Painting, you are guaranteed an upfront and fair price after an inspection, and you will receive top quality work.
Joint damage can be a major repair for your business and building. If your business or commercial building points to signs related to caulking repair, feel free to contact Major Painting or give us a call at (816) 795-9049.